Dentist in Woodward
Your smile is one of the first things a person will notice when you meet. If you have stained, dull or discolored teeth, teeth whitening may be a great option for you. Teeth whitening is a simple and effective way to brighten your smile. You can look younger and feel more confident with a whiter smile.
Your teeth and gums must be healthy enough for whitening. Before recommending whitening, we will carefully evaluate your smile. Contact Midtown Dental for more information or to schedule a consultation with Dr. Olive today.
Do your teeth have discoloration?
There are many causes of tooth staining. Certain medicines, tooth trauma, non-vital teeth, and foods and beverages can cause tooth discoloration over time. Some discolorations are superficial, while others are internal. Both can be effectively treated by a dentist. Professional whitening is the best option to safely lighten discolored teeth.
How does whitening work?
Opalescence™whitening gels contain an active whitening ingredient, either carbamide peroxide or hydrogen peroxide. Peroxide gels break down into water, oxygen, and reactive oxygen molecules. These reactive oxygen molecules treat both the enamel and the dentin, oxidizing the bonds of discolored stain molecules. By changing the stained molecules, the tooth becomes lighter.1
Reactive oxygen molecules permeate the entire tooth, so there is no need for the whitening agent to be in contact with every surface of the tooth for the entire tooth to be whitened.
Because the reactive oxygen molecules need to dissipate from the tooth before bonding, it is necessary to wait 7–10 days before any bonding procedure.
Is whitening safe?
Because tooth whitening gel can be in the mouth for several hours at a time, it's important to use a product with a pH that closely matches the natural pH of a patient's mouth. When patients whiten using products that contain carbamide peroxide, a byproduct called urea is released. Urea, which also occurs naturally in saliva, buffers the pH level of the mouth to a neutral level (between 7 and 8).
We currently provide in office teeth whitening using the ZOOM whitening technology. For more information, contact our office today.
We offer several other products within our office that you are able to take home. All our products are higher peroxide/carbamide percentages than you can get over the counter.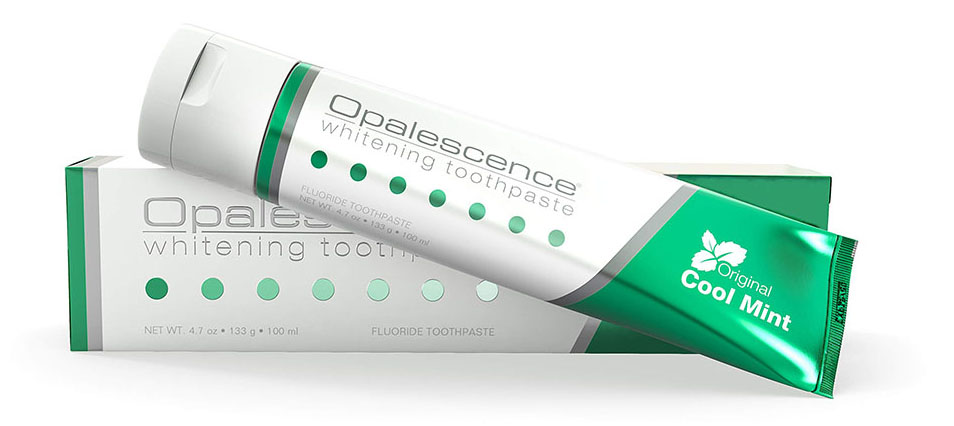 Whitening Toothpaste ($15):
Opalescence Whitening Toothpaste is a perfect addition to your whitening program and is safe for daily use. The Original formula offers a fresh, Cool Mint flavor that patients love—and a high fluoride uptake that promotes oral health.
Opalescence Go Trays 10 pack ($90):
Whitening features ready-to-go convenience with the UltraFit™ tray for an even more adaptable and comfortable whitening experience.
Unique tray material offers a remarkably comfortable fit and easily conforms to any patient's smile
Molar-to-molar coverage ensures the gel comes in contact with more posterior teeth
UltraFit tray's superior adaptation ensures the maximum amount of gel stays in contact with the teeth during whitening
Available in 10% hydrogen peroxide (with wear times from 30–60 minutes)

Opalescence Whitening Syringes ($45):
Whitening syringes that are to be used in custom fit whitening trays.
If you already have custom trays, you can purchase our 4pk syringe kit.

Available in 10% Carbamide Peroxide (wear times from 8-10 hours a day)
Available in 35% Carbamide Peroxide (wear times 30-60 minutes a day)

If you do not have a custom tray we would be happy to make you one in office (see patient take home kit)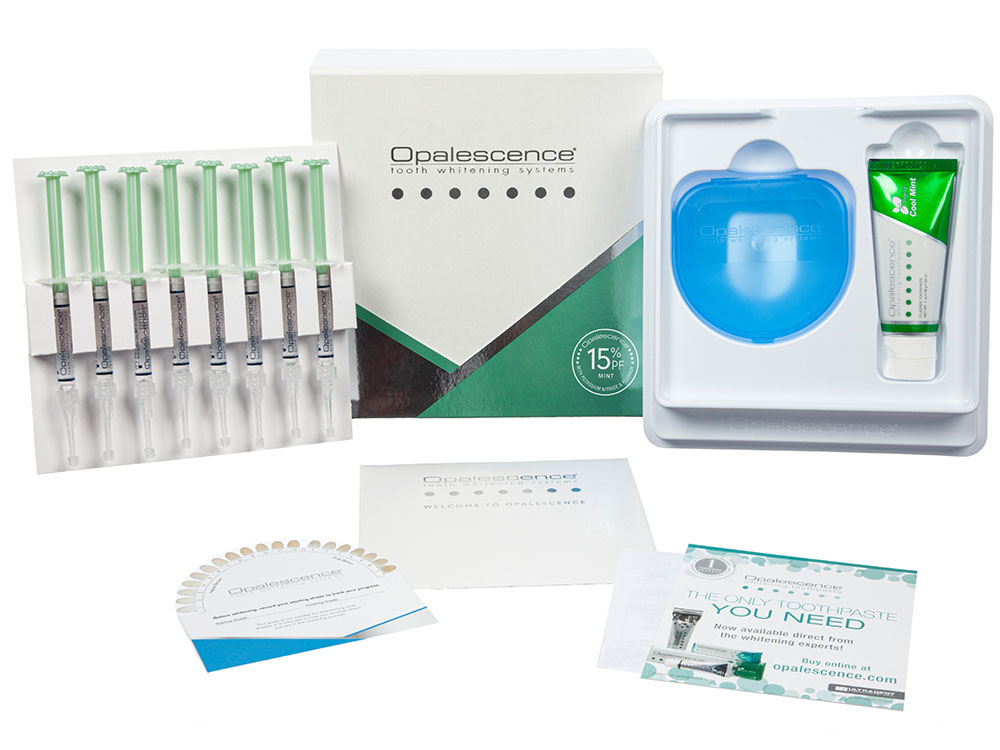 Opalescence Patient Take Home Kit ($250):
Patient Kits include a custom fit whitening tray, 8 Opalescence whitening syringes, whitening toothpaste, a whitening tray case, and a shade guide.
Patients will need to schedule an office visit to get impression completed for the custom whitening trays.
Available in 10% Carbamide Peroxide (wear times from 8-10 hours a day)
Available in 35% Carbamide Peroxide (wear times 30-60 minutes a day)